"An expert is usually someone who learned from the experience of making mistakes the first time around."
- unknown
About Us
Layman & Layman is a firm of senior business and consulting professionals with extensive experience applying industry models, frameworks, standards and methods in a wide range of business contexts. Our background includes Malcolm Baldrige, TQM, CMMI®, Six Sigma, PMBOK, ITIL, ISO 9001 and other models, as well as agile techniques. We do not, however, advocate cookbook approaches or slavish adherence to any model or method. In the real world, models make good servants but poor masters. Cautious pragmatism is called for in applying the elements of industry models or frameworks to actual practice.
Our professional affiliations include the IEEE, the IEEE Computer Society, the ACM, the Society of Women Engineers, and the National Defense Industry Association.

Profile - Beth Layman, Partner

Beth Layman is a well-known process improvement consultant, coach, facilitator, and instructor. She is a recognized authority on measurement, a published author, and a popular speaker. Her experience encompasses a wide range of of commercial enterprises, government agencies, aerospace/defense contractors and product software organizations. She has a track record of satisfying clients by providing high-value consulting services that yield tangible results.
In addition to being a principal of Layman & Layman, Beth has worked in association with TeraQuest Metrics, the Quality Assurance Institute, Software Quality Engineering, McCabe Software and other consulting firms to provide management consulting, assessments, training and interactive workshops, coaching in:
process definition, management and improvement
performance and software measurement
project and portfolio management
software quality assurance and other software engineering methods.
Beth's consulting credentials are supported by industry experience as an individual contributor, change agent and senior executive. She was formerly COO of TeraQuest Metrics, the premier global CMMI® consultancy and Gartner partner. She also held executive positions at Borland and McAfee, where she established software and business process improvement programs, enterprise-level portfolio management, project management offices, and a world-wide employee development program. Early in her career, she worked as programmer, analyst, project coordinator, and quality assurance manager in IT and software product organizations.
Beth is a CMMI Institute-Authorized CMMI® Lead Appraiser and a Certified Scum Master (PSM). She is co-author of Practical Software Measurement: Objective Information for Decision Makers.

Profile - John Layman, Partner

John Layman has an extensive record of success managing software development. He has broad experience of project, product and service management gained as a practitioner, executive, and consultant. With an emphasis on software as product, he is an authority on software engineering methods and quality assurance. His background encompasses real-time and systems software, as well as applications in telephony, banking, insurance, distribution, manufacturing, health-care and other industries.
Representative positions and engagements:
Managed real-time software development for the ground-breaking QUBE interactive cable television and security system. QUBE pioneered pay-per-view and home shopping services familar today. It produced innovative interactive game shows, townhall-style polling programs, and originated both MTV and Nicolodeon.
Headed software development at Diacon Systems, a provider of turnkey systems for healthcare practice management.
Managed development of TravelMatch, AAA's application product for regional auto clubs. Features included electronic booking of reservations, trip routing and mapping.
Software architect of the network management system used in the State of Florida's private voice/data network (initially serving more than 80,000 phones and 60 million calls per year.)
Software architect of The Travelers agency management product for independent insurance agencies.
Created an interpretive Data Definition Language employed to interface real-time lottery gaming systems to back-end payout systems.
Design consultant on a distributed, high-availability datastore for the Online Computer Library Center, an early utilization of asynchronous message-based architecture.
John has developed courseware and taught seminars on subjects such as requirements definition/validation, peer reviews, etc. He has lectured on a variety of software engineering topics, has contributed to print publications such as Windows Tech Journal, and moderated the Quality Assurance section of the Computer Consultants Forum on CompuServe.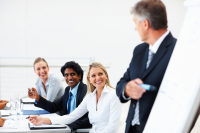 Affiliate Professional Staff
For a listing of our CMMI Institute-certified consulting staff and service offerings, please see the Layman & Layman CMMI Institute Partner page linked below: